Shallow Mounted Fixed Bollards
Suprema HB-SF501
 IWA 14-1
Impact test video by 7200kg truck travelling at 80 kph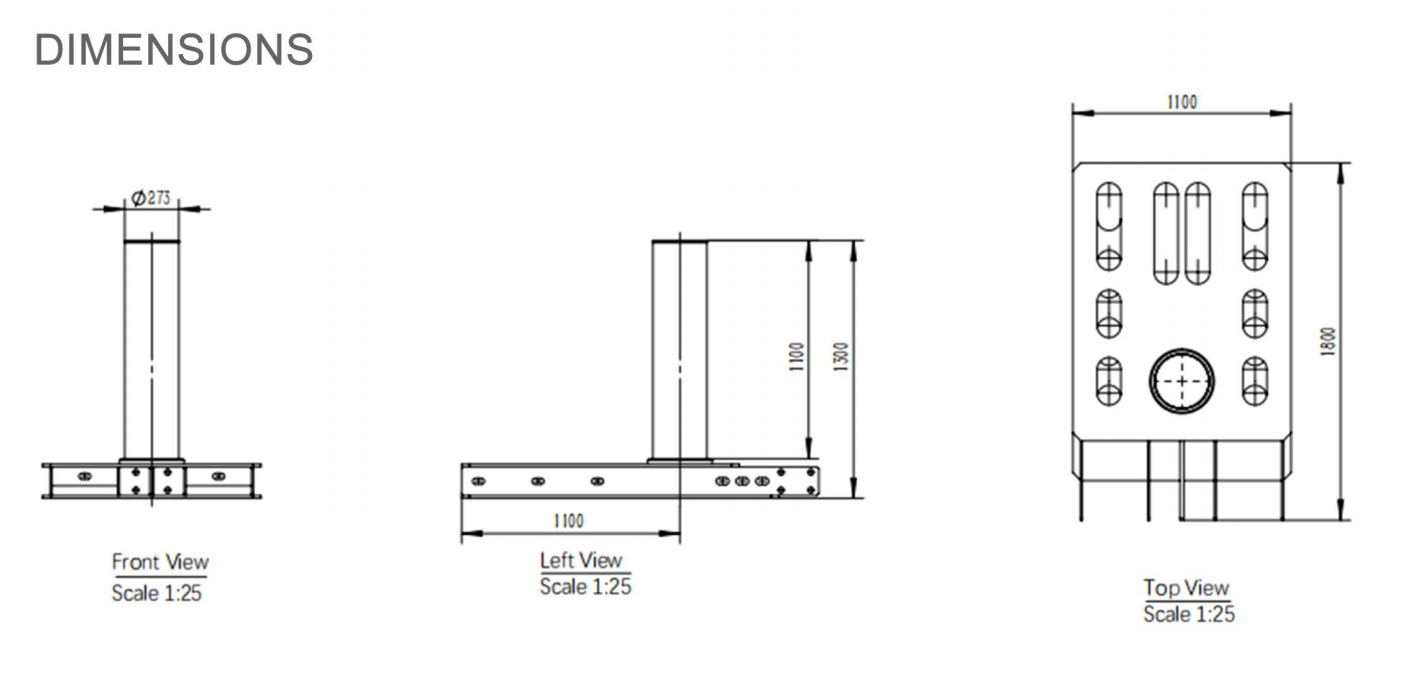 | Specification | Parameter |
| --- | --- |
| Bollard diameter | 273±2mm |
| Height above ground | 1100±5mm |
| Depth | 200mm |
| Bollard Material | Q345 steel |
| Basement Material | Q235 steel |
| Basement Surface Treatment | Paint |
| Color | Meet customer requirment |
IWA Suprema Shallow Mounted Fixed Bollards
ZASP IWA 14-1 Suprema HB-SF501 Super Shallow Mounted Fixed Bollards are the new crash rated product in the early of 2023. This model type provide the highest level of security against unauthorized vehicle access.  Suprema HB-SF501 Fixed Bollard passed crash tested  IWA 14-1 by 7200kg truck travelling at 80 kph,  P2.
Based on the dense network of underground in urban environment is complex system which is not suitable installed depth evacuation of foundation. We highly recommend this type of fixed bollard that the structure of 200mm shallow mount can be available used in most of sites.
The standard of material is hot-dip galvanized. Otherwise the product also can be painted specified RAL color or finish with types of sleeves. Fixed bollards widely used in different areas, especially the crash rated bollards, they are normally installed in some sensitive locations, such as government office, military base, jails, power station, airports etc.
Enhancing Security with the Suprema HB-SF501 Shallow-Mounted Fixed Bollard
In today's ever-evolving world, security is of paramount importance. Whether it's safeguarding critical infrastructure, protecting public spaces, or securing private properties, having robust security measures in place is crucial. One essential component of a comprehensive security strategy is the installation of reliable bollards. In this article, we delve into the key features and benefits of the Suprema HB-SF501 Shallow-Mounted Fixed Bollard, a cutting-edge security solution designed to fortify perimeters and prevent unauthorized vehicular access.
Understanding the Need for Shallow Mounted Fixed Bollard
Before we dive into the specifics of the Suprema HB-SF501, it is essential to grasp the significance of installing high-quality bollards. Bollards act as formidable barriers, capable of withstanding impact from vehicles and deterring potential threats effectively. They are commonly employed in areas such as government buildings, embassies, airports, corporate headquarters, and other critical sites where security is a top priority.
The Superiority of Suprema Shallow Mounted Fixed Bollard
The Suprema HB-SF501 stands out among its competitors due to its innovative design and cutting-edge features. Let's explore what sets this bollard apart:
1. Unparalleled Strength and Durability
Crafted from premium-grade materials, the Suprema HB-SF501 ensures exceptional strength and durability, capable of withstanding significant force upon impact. This bollard is engineered to endure harsh weather conditions, making it an ideal choice for both indoor and outdoor installations.
2. Shallow-Mounted Design
The HB-SF501 features a shallow-mounted design, which means it can be seamlessly integrated into areas with limited excavation depth. This advantage not only saves time during installation but also reduces disruption to the surrounding environment, making it an eco-friendly security solution.
3. Anti-Corrosive Coating
To ensure long-lasting performance, the Suprema HB-SF501 is equipped with a specialized anti-corrosive coating. This protective layer shields the bollard from rust and corrosion, extending its lifespan and maintaining its aesthetic appeal over time.
4. Aesthetically Pleasing
Contrary to bulky and unattractive security barriers, the Suprema HB-SF501 boasts a sleek and modern design. Its aesthetic appeal seamlessly blends with various architectural styles without compromising on security measures.
5. Customizable Options
Suprema understands that every security scenario is unique. Therefore, the HB-SF501 is available in various height, diameter, and color options, allowing for customization to suit specific security requirements.
Implementing the Suprema HB-SF501 Bollard
Now that we have a comprehensive understanding of the outstanding features of the Suprema HB-SF501, it's time to discuss its implementation. The installation process is as crucial as the bollard's quality itself.
To ensure optimal performance, the following steps are recommended during installation:
1.Site Assessment:
Conduct a thorough assessment of the location to determine the most strategic spots for bollard installation. Identify potential points of vehicular access and vulnerable areas that require enhanced security.
2.Professional Installation:
Entrust the installation process to experienced professionals who possess the expertise to ensure accurate and secure placement. Improper installation can compromise the effectiveness of the bollard.
3.Strategic Placement:
Place the bollards strategically to create a formidable security barrier, effectively preventing unauthorized vehicle entry. Consider pedestrian access points and emergency escape routes while designing the layout.
4.Routine Maintenance:
Implement a regular maintenance schedule to keep the Suprema HB-SF501 in optimal condition. Periodic inspections and necessary repairs will guarantee consistent performance and extend the bollard's lifespan.
Applications and Benefits
The Shallow Mounted Fixed Bollard boasts a myriad of applications and benefits that make it an indispensable security solution:
1. Perimeter Protection
Deploying these bollards around the perimeter of your property creates an effective physical barrier, preventing unauthorized vehicle access and deterring potential threats.
2. Pedestrian Safety
In busy pedestrian areas, the Shallow Mounted Fixed Bollard ensures the safety of pedestrians by preventing vehicle intrusion into designated zones.
3. Traffic Management
These bollards can be strategically placed to manage traffic flow, ensuring controlled access during events or in high-traffic zones.
4. Property Security
For critical infrastructure, government facilities, or sensitive locations, our bollard provides an added layer of security against vehicular attacks.
5. Aesthetics and Branding
Aside from its security features, the bollard's sleek design can be customized to complement your property's aesthetics and even include branding elements for a professional appearance.
The Importance Of High Security Bollards
High-security bollards play a pivotal role in safeguarding public spaces and critical infrastructure from potential vehicular threats, mitigating the risk of unauthorized vehicle access and hostile attacks. Among these, the IWA 14-1 Suprema HB-SF501 Shallow Mounted Fixed Bollard, developed by our company, stands out as a remarkable solution, absolutely. Having successfully passed the rigorous international crash test IWA 14-1, this bollard demonstrates its capacity to effectively stop unauthorized vehicles and minimize the impact of a collision, thereby ensuring the safety of pedestrians and property. Its advanced design combines robust engineering with discreet integration, offering an unobtrusive yet formidable line of defense. In a world where security concerns continue to evolve, discussing solutions like the Suprema HB-SF501 highlights the commitment to creating safer environments through cutting-edge technology and proactive measures. Welcome contact Beijing ZhuoAoShiPeng Technology Co., Ltd.
Welcome to Choose Our Shallow Mounted Fixed Bollard!
Welcome to Beijing ZhuoAoShiPeng Technology Co., Ltd., the leading manufacturer specializing in high-security level products, including hydraulic automatic bollards, road blockers, and tire killers. In addition to these cutting-edge solutions, we are proud to offer a comprehensive range of semi-automatic, fixed, removable, and manually retractable bollards to cater to diverse security needs. Among our impressive product lineup, we present to you our exceptional Shallow Mounted Fixed Bollard – an outstanding security measure designed to fortify perimeters and ensure unparalleled protection for your valuable assets.
At ZASP, we take pride in our more than 12 years of experience in producing the highest quality Hostile Vehicle Mitigation (HVM) equipment. As industry pioneers, we excel in research and development, production, service, and application innovation, setting the gold standard for the security industry in China. Our commitment to excellence and customer satisfaction has earned us a reputation as the go-to "one-stop-factory" for all your security needs. if you are interested, please leave us a message and we will answer everything for you!