Milita SF301-1000 impact test video by IWA 14-1 7200kg/48kmh, zero penetration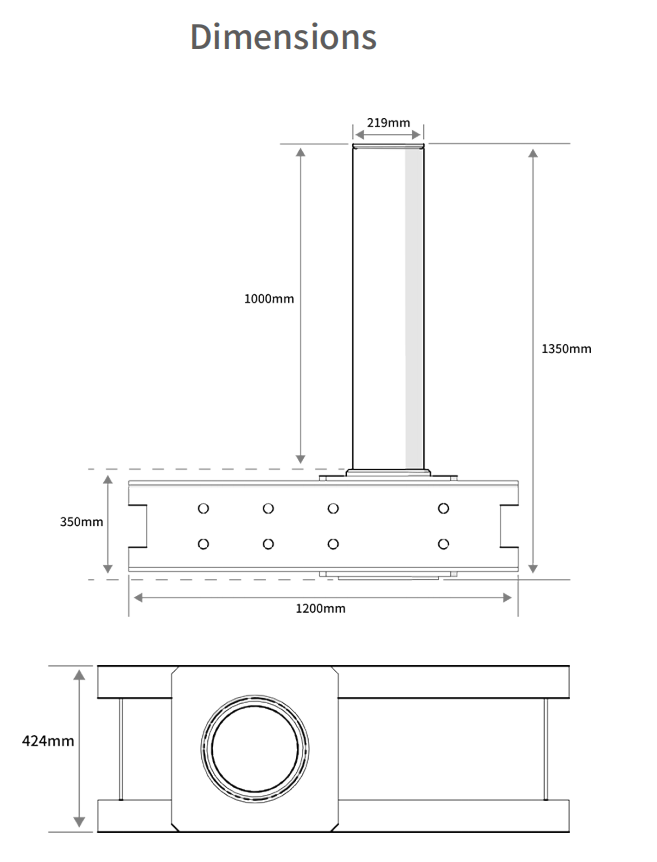 ● Bollard diameter: 219±1mm
● Height above ground: 1000±5mm
● Depth: 350mm
● Waring method: 3M reflective tape
● Material: Q235 steel
● Color: Grey, or other RAL color
●Crash Rating: IWA 14-1, 7200KG/48KMH, ZERO penetration, equal M30/K4
IWA Fixed Bollards
The high security standard of fixed bollard Milita HB-SF301 is the latest product R&D by ZASP in 2020. Milita HB-SF301 security bollards passed the IWA14-1 crash test by 7200kg truck travelling at 48 Kph, after test got the best result, Zero penetration.
Based on the dense network of underground in urban environment is complex system which is not suitable installed depth evacuation of foundation. We highly recommend this type of fixed bollard that the structure of 350mm shallow mount can be available used in most of sites.
The standard of material is hot-dip galvanized. Otherwise the product also can be painted specified RAL color or finish with types of sleeves. Fixed bollards widely used in different areas, such as walking street, shopping center, square or integrated into perimeter security system.
What are protective bollards?
Protective bollards are made by ss304/316 or Q235 carbon steel, and filled with concrete. They have higher crash rated standard than normal pole. In order to reducing maintenance costs and appearance looks good, we can also design and manufacture the bollards cover and post sleeves for clients.
Why A IWA Milita HB-SF301 Security Bollard K4 M30?
IWA fixed bollards are a type of Hostile Vehicle Mitigation (HVM) roadway safety barrier equipment that provides a high level of protection against unauthorized vehicular access to restricted areas.These bollards are designed to be permanently installed in the ground, creating a physical barrier that can stop vehicles from breaching secure perimeters.
Compared to other types of bollards, IWA fixed bollards are highly resistant to impact and designed to withstand high levels of force. They are also constructed with durable materials that can withstand harsh environmental conditions and resist corrosion.
One of the key advantages of IWA fixed bollards is the bollards have been rigorously tested and meet stringent performance standards for stopping vehicles.
In addition, IWA fixed bollards ensures a high level of quality and attention to detail in the manufacturing process. This also allows for customization to meet specific site requirements, such as color and finish options.
IWA fixed bollards are an ideal solution for a range of industries, including retail sites, rail stations, stadiums, financial service industries, commercial property, and public areas where a "ring of steel" is required. They provide static protection and are capable of operating in both low and high weather extremes.
Finally, warranty, service, and maintenance are available for IWA fixed bollards, ensuring that they remain in optimal condition over their lifespan. Overall, IWA fixed bollards are a highly effective and reliable solution for protecting critical infrastructure and assets from vehicular threats. Choose Beijing ZhuoAoShiPeng Technology Co., Ltd, you can be get most careful and thoughtful service! If you need, welcome to contact us to know more.